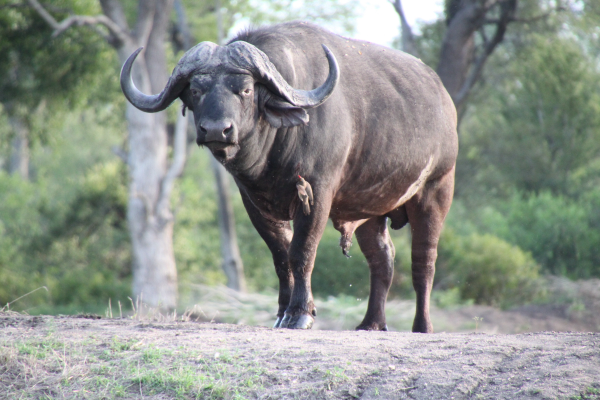 This seven-day buffalo hunt from Discount African Hunts in Zambia is available at the discounted price of $9500 and can be conducted with rifle, bow, or crossbow.
Your hunt will occur on a private reserve of 20,000 acres. There is a herd of over 300 buffalo on this reserve located deep in the Zambian bush. The main hunting area is just over 100 kms north of Kalomo Town and is adjacent to the world-renowned Kafue National Park. Buffalo trophy size of a hard-boss bull in this area ranges from 36" to just over 40".

This Zambia safari package includes 7 full hunting days and 2 travel days; 8 nights lodging and all meals; daily and trophy fees for one cape buffalo; licenses and permits; service of a PH, tracker, skinner, and safari vehicle; field prep of your trophy; trophy delivery to dip and pack; airport pickup and drop off.
A typical hunting day will begin by driving and looking for tracks or buffalo. Warterholes may be checked. When a suitable sized track is located you will begin following the buffalo on foot until you catch up with the buffalo and can assess its trophy potential. Once a suitable trophy has been located you will proceed to stalk to within comfortable shooting range of the buffalo bull and hopefully the bull will shortly be on his way to the salt room!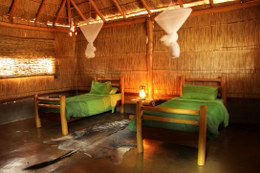 During your hunt for cape buffalo in Zambia you will stay in a 3-star lodge set deep in the Zambian bush. The lodge receives its power via electrical generators. Hunters will stay in separate permanent African-style thatched chalets with in-suite bathrooms. Each of these chalets are decorated in the local Zambian style and feature solar lighting and comfortable bedding. Your cameras and other devices can be charged by using either the solar or generator power systems.
Your arrival/departure city is Livingstone which is located at the world-famous Victoria Falls, one of the seven natural wonders of the world. Several activities are available for you and / or your family either before or after your safari.
If you want to make the move to dangerous game (and who doesn't?) this Zambia buffalo package is an excellent choice. Contact John Martins at 866 256-7846.