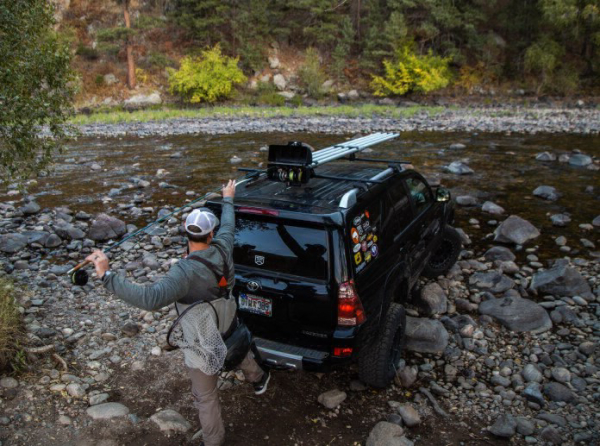 Denver Outfitters' Rod Vaults are the #1 selling fly rod carrier in the world creating more time to enjoy fishing and less time rigging. Built from the highest quality aircraft grade Aluminum tubes with a non-abrasive plastic liner and an extremely tough reinforced nylon housing, The Rod Vault Classic ensures both security and superior protection for fly fishing rods and reels on all fishing trips be it on the long highway or simply jumps between favorite waters.
Denver Outfitters provides the rooftop fly fishing rod carrier that will guarantee more time spent fly fishing. The rod tubes are designed to carry not just the rod, but the rod with the reel firmly fixed in the reel seat.
Reinforced nylon clamps not only offer a strong and effective way of attaching the Rod Vault rooftop fly rod carrier unit to the cross members of your roof rack mounting system, but they are also built to lock the clamps to cross members by using a small padlock.
The Rod Vault reel housing is manufactured using reinforced nylon polymer and will accommodate reels up to an 8 weight (4.25 inch diameter) and rods up to 10.5 feet in length. The reel housing also features an industrial strength locking system that comes with two keys.
Denver Outfitters delivers style, performance and the added convenience to rooftop fly rod holders. Rig rods the night before, put them in the Rod Vault, lock it down and get on the water the next day faster. No more snags on car upholstery, broken fly rods, damaged reels, or wasted time on the riverbank rigging gear. Whether a professional fly fishing guide or just a weekend warrior, this fly fishing rod carrier should be on top of the vehicle.
Designed, assembled, and shipped from Denver, Colorado, the Rod Vault 2 has the ability to carry up to two fully-assembled fly rods and the Rod Vault 4 can carry four fully-assembled fly rods. Both models can stow rods up to 10'6 feet in length.
Prices start at $399 MSRP and are available at Denver Outfitters.