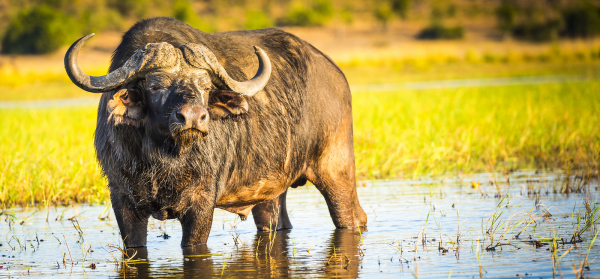 Been holding out for a good deal on a discounted trophy Cape buffalo hunt? Look no further. Discount African Hunts has an 8-full hunting day/9-night/all meals & accommodations hunt…all in for $8,900. This top outfitter in South Africa has a 14,000-acre concession that is convenient to Johannesburg. The concession features a 4-star hunting lodge and a large herd of Cape buffalo. Several of these bulls are over 40 inches. Some of the clients have taken some real trophies here, including a 44-inch bull in 2019. These Cape buffalo are living in this large area and hunting here will offer a world-class buffalo hunt. This is a chance to get a true trophy Cape buffalo at an unbelievable price. This is a proper cape buffalo hunt. No riding around and shooting from the truck. Hunters will work for their buffalo on this concession, as the buffalo like to hang out in the thick stuff during the daytime.
The Buffalo Hunting Concession
The area that the hunt will take place on is over 14,000 acres with hills and thick bushveld opening up to open plains areas. There are about two dozen natural dams holding water, so there are plenty of places for the game to drink. With the mix of terrain and thick cover, this is the ideal place for a trophy cape buffalo hunt! The trophy buffalo hunt will mostly be done on foot, with tracking being the primary method although spot and stalk may also be used. The outfitter will get the hunter in close, but safe, in a position to make a good shot, in classic Cape buffalo hunting style. A camera man is available at an extra charge should there be the desire to have the buffalo hunt filmed.
The PH will help find a buffalo that the hunter is happy with. Many different shapes and sizes of buffalo will be seen. Some will have deep drops, some will have wide spreads and some will have big bosses. Although this concession is a fenced area, the fences are seldom seen, as this is a true fair chase hunt for Africa's most sought-after dangerous game animal.
The Hunting Lodge
The hunt is conducted from a 4-star lodge on the concession. Individual chalets feature two plush beds and in-suite bathrooms and showers. The lodge uses heat pumps, so air conditioning is available for the hotter times of the year. There also is wireless internet available in the lodge. The cuisine will be excellent and there is a great place to relax outside around the fireplace after a hard days hunting
To insure trophy quality, there are a limited number of bulls taken each year. For more information about this hunt and Discount African Hunts, call 866-256-7846.