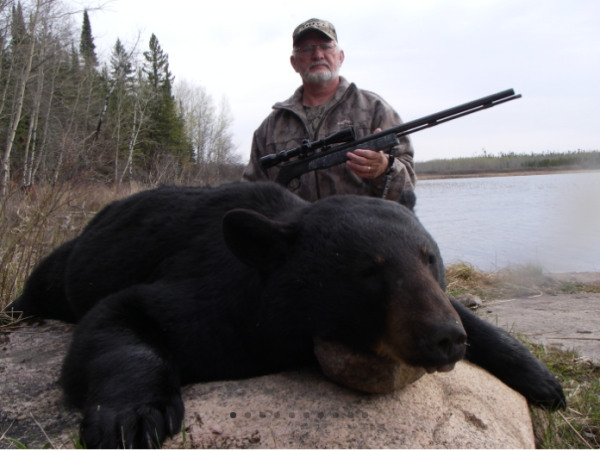 Some of Manitoba's most remote country is only accessible by float plane with very little pressure on the bears when it comes to hunting. Outdoor Solutions offers the ideal black bear and north-country fishing cast-and-blast in southeast Manitoba. Enjoy the solitude and soak up the scenery while on the water fishing for Northern pike or in a tree stand looking for that trophy bear.
A typical day starts with the fishing guide after an awesome breakfast. Anglers can typically boat up to 100 fish per day including trophy pike, walleye and smallmouth bass. There's time for a little more afternoon fishing after a remarkable shore lunch, then it is back to the lodge to get ready for an evening of bear hunting. The guide takes the hunter to the stand with set up for the ideal shot and then it's back to camp at dark.
Included in the five-day hunting/fishing package are the float plane fly-in (for groups of four or more, do not have to be from same group), home cooked meals, private lodging, fishing with guide, monitored bear stands and five evenings of bear hunting.
Not included in the package are bear license, tags, GST (taxes), fishing license, gratuities, travel to Winnipeg and Lac du Bonnet for the float plane or boat in to the lodge, linens (or sleeping bags), bath towels, firearms, ammunition and fishing gear. Fishing tackle can be rented for $40 per day.
There are two different lodging options on two different lakes. The cast and blast package cost is $3,360 USD per person, plus tags and taxes. The fishing only package cost $2,730 USD per person, plus licenses and taxes.
A bear tag cost $635, fishing licenses/taxes are $280.
To get there, fly into Winnipeg and then in to Lac du Bonnet for the float plane to the lodge. Float plane air service is provided by Adventure Air and their own fleet of highly maintained aircraft. They are able to provide reliable transportation to the lodge.
For more information about the Manitoba cast and blast or other adventures go to the Outdoor Solutions.